Halo
And all that could have been...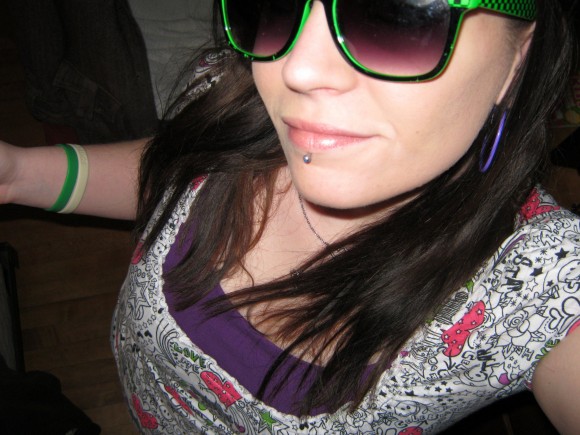 Top Friends

About Me
My name is Paige Louise LaPointe, born September 6th, 1987, currently making me 23 years old. I reside in Ashland, Wisconsin which is located about as far north as you can get. I stand 5'6 and weigh 160lbs. I originally have brown curly hair but I'm always dying it different colors and straightening the crap out of it. I also wear thick rimmed Apple Bottoms glasses. A couple things you must know that I love: I am a huge Trent Reznor / Nine Inch Nails fan, the biggest! I have like 5 Nine Inch Nails t-shirts, a mouse pad, a cigarette case, a Year Zero poster and a With Teeth limited edition poster, and I own ALL their albums in mp3 form and most of their albums physically, just missing a few. Two other artists I : Hyper Crush, I found them on MySpace in 2005 or something and I am on their street team, and have saw them once in Minneapolis, MN in 2008 with Chronic Future and The Medic Droid. You should also check out Skrillex, whom I love very much. I think that about sums me up!

I love body modification but to a certain extent. I have 6 piercings, 7 holes though, and 2 tattoos. I plan to get more! But so far I have a Industrial in my left ear, my labret, tongue, nose, and my ears pierced. The two tattoos I have are on my left wrist of a black and blue nautical star and on my right arm I have "In Memory Of Gregory" that I got two days after he passed in 2008. I'm currently single and unemployed.

My hobbies include going to garage sales and thrift stores and shop around as well as web and graphic design. I love getting letters from my pen pals and writing them back via snail mail. I'm also into astrology but not so much that I read horoscopes everyday. I adore cats, horses, unicorns, pegasus', and penguins. I currently have two cats, Kitty who is Calico and around 15 years old and her daughter Baby that is a darker calico around 8 or 9 years old.
I am average and no better than you or any other person. My trivia is an invitation to be friends. Words can mean that I want to make you into a friend and silence can mean that I accept you already being one. The best kind of friend is the one you could sit on a porch with, never saying a word, and walk away feeling like that was the best conversation you've had.

I'm a still water that runs deep and the book that writes a story but leaves a lot to read. Most words evolved as a description of the outside world, hence their inadequacy to describe what is going on inside me. I am not interested so much in what I do with my hands or words as what I do with my feelings. I want to live from the inside out, not the inside in.

I'm picky with the environments I put myself into because I'm so well reserved and lack demonstrativeness. I'm not one of those people who many people can tolerate. I'm not that fun to hang out with, I'm too serious and a terrible conversationalist. I don't have any other friends to bring over and make a party and I'm not social enough to turn any situation into anything enjoyable. If I can be a part of the equation, sometimes I come out decent, but never if I have to have the initiative. I feel like here I am surrounded by people but still all alone... even with myself imprisoned in my head, there doesn't seem to be any way to get out. Beneath the surface lies a young girl who is soft and sweet.
| | |
| --- | --- |
| Name | Paige |
| Gender | Female |
| Age | 24 |
| Location | Wausau, WI |
| Ethnicity | White / Caucasian |
| Interested in | Men |
| Status | In a relationship |
| | |
| --- | --- |
| Interests | html, coding, graphic design, web design, quake 3 arena, trent reznor, nine inch nails, hyper crush, scrapbooking, decorating, mod podge, collages, skrillex, word searches, video games |
| Music | a perfect circle, a static lullaby, ace of base, aesop rock, alanis morissette, avril lavigne, breathe carolina, the beatles, boys noize, chronic future, coheed & cambria, crystal castles, daft punk, dj tiesto, the faint, funeral for a friend, green day, gym class heroes, hellogoodbye, how to destroy angels, hyper crush, johnny cash, the juliana theory, les rythmes digitales, matchbook romance, the medic droid, modest mouse, nine inch nails, portishead, the postal service, secondhand serenade, skrillex, something corporate, sublime, steve aoki, thrice, tom petty, tommie sunshine, underoath, waking ashland, weezer, yellowcard |
| Movies | grandma's boy, tron, prince of persia, dream a little dream, twilight, hackers, cry baby, spun, super mario brothers, office space, foxfire, honeymoon in vegas, across the universe, the truman show, sorority boys, equilibrium, forgetting sarah marshall, notorious, i am legend, the devil's rejects, house of 1, 000 corpses, dirty love, my best friend's girl, idiocracy, donnie darko, resident evil, the patriot, fast times at ridgmont high, iron man, holes, lord of the rings, happy feet, finding nemo, catch me if you can, the chronicles of riddick, the neverending story, chasing amy, gone in 60 seconds, the beach, blow, gia, kick ass, the blindside, surrogates, get him to the greek, scott pilgrim vs the world, death race, the hangover, the uninvited, step brothers, role models, the social network, return to oz |
| TV | daria, rock of love, ghost adventures, gene simmons family jewels, sex & the city, law & order svu |
| Books | the catcher in the rye, the fuck up, where the red fern grows |
Statistics
Recent Photos
Web Skills
HTML, CSS, JavaScript, PHP, Photoshop, Paint Shop Pro, Animation Shop, Apache, Windows